Well, I've been felled by a cold. Seriously. I feel just crummy enough to want to whine, but not crummy enough to stay in bed all day. Crummy enough to stay away from Mrs. M's precious baby, but not crummy enough to excuse myself from my responsibilities. Do you know the feeling? Well, when I feel this way, reading doesn't cut it because I can't stay focused, but television gets boring fast! What to do? I started sewing. Once I got started, I couldn't seem to stop. I know it is Andrea at the Train to Crazy's fault...she's hosting this weekly
Clothing Sew Along
in which she is teaching you everything you want to know about sewing from picking out your fabrics to picking out your patterns: the works. Then I saw
this tutoria
l for making European Pillow Shams by
Prudent Baby
(I found it via
One Pretty Thing
- I do so love One Pretty Thing!).
The result? This week I've made two surprise presents for Superman which I can't show you because I shipped them off today and he won't have them until the end of next week and if I were to show you, they would no longer be a surprise!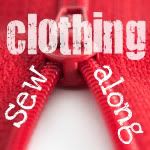 Andrea's sew along got me thinking, but I can't think of anything to make for myself...okay, that isn't true. I can't make anything for myself until I use up some of the fabric I already have. So, instead I made another fleece like
this one
for Buttercup.
This first one I made for her has already become too small and she misses it. The great thing about using this same pattern for everyone is that I'm learning more and more about how I like to put things together and I'm being brave enough to alter patterns and follow my own directions to get the result I want. The kids agree, Buttercup's fleece turned out really, really well. Enough room to grow in, but not so much that she's swimming in it. And the zipper didn't defeat me - wooo hooo!
Then I decided to go ahead and make some pillows to match the curtains I'd made for Mrs. R more than a year ago. As I said,
this tutoria
l
for European Pillow Shams at Prudent Baby got me thinking and I had this fabric waiting to be used. Throw in a couple of old pillows (12 x20) and I had a project! The curtains were a gift - Mrs. R bought the fabric (I found it for her on clearance, and it was exactly what she was looking for) and I did the sewing for her. Embarrassing fact? The curtains have been done 18 months...the pillows? One hour...sigh. At least they're done!
So, what else am I inspired to do? I'm making a nightgown for myself and pajama pants for Charming. (With a 37" inseam, he likes occasionally having pj's that are
actually
long enough!) I'm going to modify the very first fleece I made so that it will actually fit Valiant, as the one I made for him is getting a bit short. Oh, and I'm going to tackle a few
potato bags
! Have you heard of them? Supposedly a potato bag is the key to fluffy microwaved "baked" potatoes...I'm skeptical, but Mrs. M. is dying to make some, so I'll be a copy cat.
PS. As soon as Superman confirms receipt of his surprises, I'll show you what I made him...I just love it!